We're back.
Guerrera restaurant has thankfully re-opened for business and we can handle dine-in, delivery and takeout. Please check our menu  and call us at  (

63) 970 444 1477

  to place your order.
Chef's Jay and Cha-cha, cousins of Owner and Executive Chef Carmel are running the show for the foreseeable future.
Stay with us
Guerrera Rice Paddy Villas can also take guests and you may call the same number above or email guerreracamiguin@gmail.com to book one of our 3 villas. You will always get the best rate when booking directly with us and if you find a cheaper one online, we will match it.
Keep in mind that most travel websites give you a low price in order to interest you and then at the very end, add in all kinds of taxes so you need to compare the final price with the one you will get from us, not the display price.
Also,if you have made it to this page, you probably have some idea of the " safety" requirements to visit Camiguin.
let's go!
The Team@Guerrera
 Guerrera Rice Paddy Villas & Restaurant
is a culinary destination for adventurous diners.
is a family business , owned and operated by chefs.
is a retreat for naturalists, nostalgics, and never settlers 
View of the rice paddies and room  from the villa deck
Guerrera Rice Paddy Villas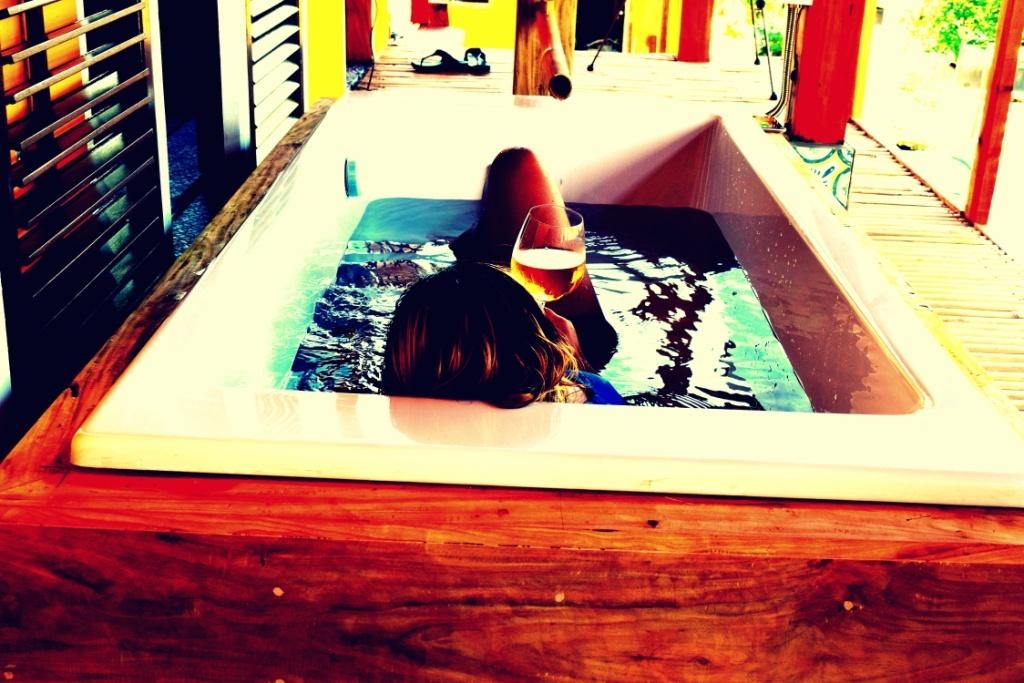 Rice paddy villas

Featuring fine Asian cuisine, stunning natural settings and vintage rooms, Guerrera Rice Paddy Villas are designed for foodies, naturalists, and all those prefer the road less traveled.

Substance
While we have our photogenic days, we have absolutely no interest in being known as an instagrammable destination or to be part of some trend in farm to table cooking.  Our main goal is to provide rare and fulfilling experiences to our guests and this is reflected in everything we offer– from our innovative cuisine, to the timeless design of our villas, to our one of a kind natural setting. Even Camiguin itself, being a remote island far from commercial development, was chosen with this idea in mind.  When guests one day look back on their trip to Guerrera, we want them to remember how they felt, not just what they did.
Natural views, not cement walls
Set in a lush and serene rice paddy steps from the beach,  all of our villas were specifically designed to give guests the best views of nature, including the paddies and both White Island and volcanic mount Hibok-Hibok.  Each accommodation is very private, as is the property itself, which sits alone at the end of a quiet country road.
Golden age thinking

We take great pride in the distinctive character of our accommodations which are neither modern, native or commercial.  Meant to evoke an earlier, slower, more romantic time, each room includes Spanish tiles, Vietnamese lanterns, colonial shutters, bamboo ceilings and hand-tailored native hardwood.  Unique details abound and virtually everything was built on premises, by hand.
Amenities
Each of the two villas has a generous wrap around deck and because life is short, an over-sized outdoor bathtub, for two, directly facing the rice paddies. Along with a queen-sized bed, a pullout sofa is provided.  We feel the villa is best suited for 2 people.
Modern amenities include WiFi, brand new air-conditioning, hot water heaters for both shower and tub and top quality memory foam beds.   Your TV has been replaced by a full bookshelf for your refreshment.
Service style/guest focus
We operate more like a bed and breakfast than a traditional resort in that service is casual and personal.  As hosts, we provide comfort and restoration, and hopefully some humor,  but we do not believe in over-luxuriating guests. Pampering is for the pampered and instead, a stay at Guerrera provides opportunities to savor life's rare moments.
---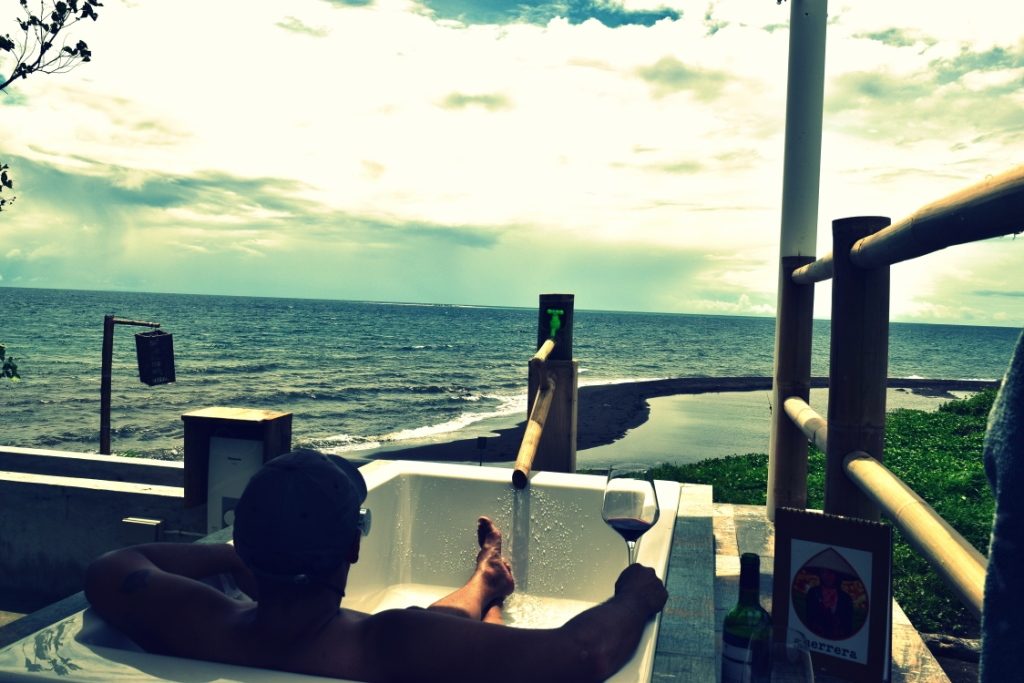 Beach villa ( new) 
Built in 2017, our  beach villa is situated beside the two rice paddy villas but lies a mere single step  away from the beach–and the view of white island is simply stunning.  If you like the sound of waves coming in, you will get your sleep here.
The beach villa shares much of the same look and feel and features as the rice paddy villas but is roomier and can better suit 2- 4 people.  We have recently added an beautiful  roof-deck that includes a bathtub for 2 right on the water, a marine-grade sunshade so you can relax comfortably even on hot days, and an over-sized spanish tiled table that gives you breakfast views of all three of unique natural features: rice paddies, volcano, and white island.   It is easily our best table on the entire property.
Guerrera Restaurant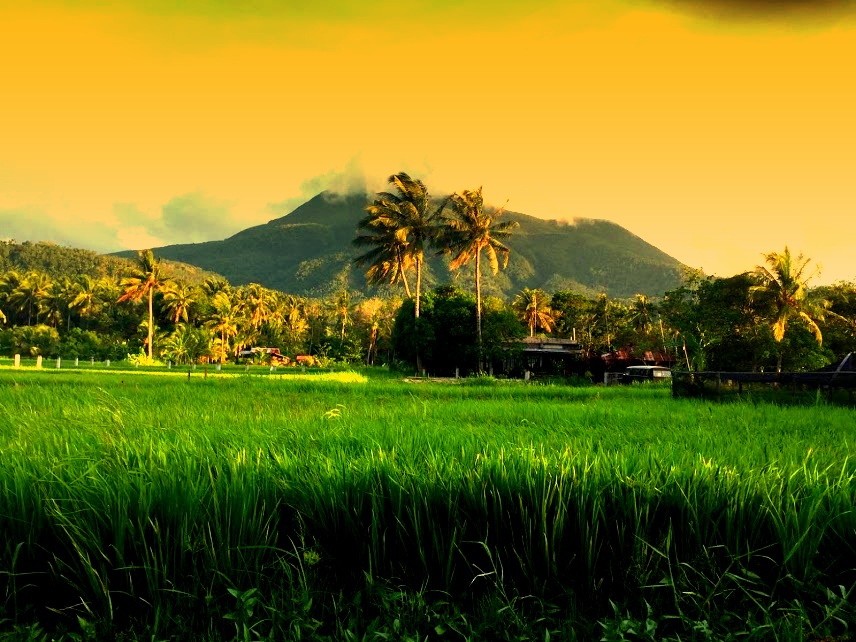 Located in a rice paddy on the Philippine island of Camiguin, Guerrera is a true farm to table restaurant, growing up to 40 different species of vegetables and herbs and of course, rice, just meters from the kitchen.  Just about everything is made slowly, by hand, and the use of processed and packaged ingredients is kept to a minimum.
The emphasis for Le cordon bleu-trained chef ( Bangkok) and owner, Carmel Therese Almadrones is on creativity and exploration.  Her "Fine Asian Street Food" eatery has become a destination for foodies and chefs alike and her ever-changing seasonal menu includes both signature creations and more traditional dishes from across Asia. The cuisines of Thailand, Vietnam, India, Indonesia and Malaysia are featured and the selections are balanced for both vegetarians and carnivores.
A meal at Guerrera also offers spectacular views of the Bohol sea, White island, our vibrant rice paddies and gardens and volcanic mount Hibok-Hibok.
Calling all adventurous diners…