Guerrera Rice Paddy Villas
Featuring fine Asian cuisine, stunning natural settings and vintage rooms, Guerrera Rice Paddy Villas are designed for foodies, naturalists, and all those prefer the road less traveled.
The villa is actually a single building split into 2 identical units. Each offers plenty of privacy and separation from the other. As you can see from the photos below, the spaces are of average size on the inside but have an equal amount of room on the outside veranda.  The primary reason we designed them this way was to encourage guests to not lock themselves in, but to enjoy the unique natural setting we offer. Whether in the bathtub , at the breakfast table or lying on the bed with the shutters open, we think this is the ideal way to enjoy Guerrera.   We can't stress this point enough as each guest is different and we want very much to match their expectation with what we provide.
To book or inquire: please email us at: Guerreracamiguin@gmail.com
# of rice paddy villas:2

best for: 2 people

max # of people: 4, but it will be cozy.

beds: 1 Queen sized bed, 1 queen size pull out sofa

amenities: please scroll down to bottom of page
Guerrera Beach Villa
The bigger cousin to our two rice paddy villas, the beach villa is right next door and shares many of the same design elements ( imported spanish tiles, handmade hardwood furniture, teak lamps, Vietnamese lanterns and no TV by choice!) but offers our best view of the bohol sea and white island, which you can see right from your bed, our your roof deck, or your breakfast patio that lies just steps from the beach. The bathroom is a nice full size and gets great light. The fisherman park their boats 2 meters from your white picket fence.  There is also a expansive view of the rice paddies from the roof which you can take in from the over-sized bathtub.  The feel of this villa remains very attached to nature and quite private, like the others, and it is perfect for a lazy Sunday, a weekend getaway or that special occasion where you want to leave the rest of the world behind.
To book or inquire: please email us at: Guerreracamiguin@gmail.com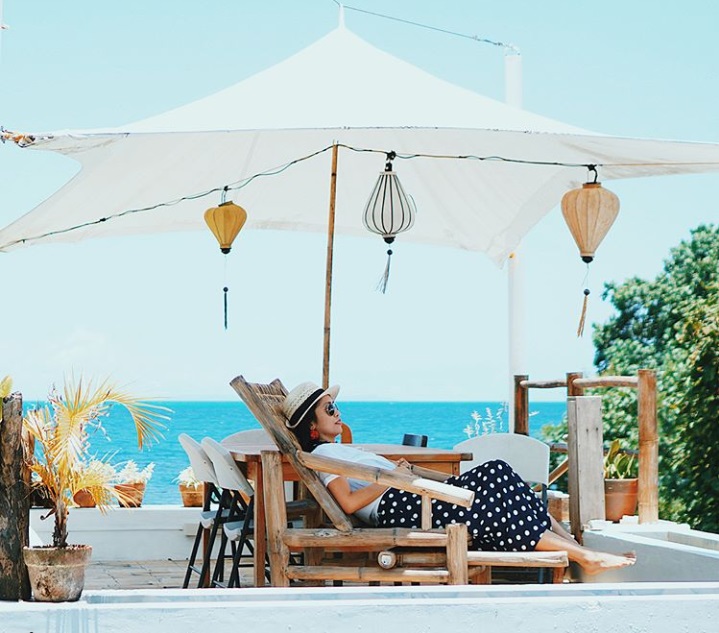 Why Book Direct ?
We travel a lot too and that's in part  how we got into this business. When planning a trip we'd shop around the major online travel sites, then visit the hotel websites directly and finally choose the places and deals that were the best. As owners, we want you take that same approach but ultimately, we want you to book directly with us, rather than any 3rd party service because we save on the commissions. Wouldn't you?
So we' re going to make it worth your while to book direct.
How?
To book or inquire: please email us at: Guerreracamiguin@gmail.com
Why Guerrera Rice Paddy Villas?
Unbeatable location and scenery
On an island bursting with natural wonders, Guerrera Rice Paddy Villas resort in Camiguin stands apart, being located on a secluded black sand beach, directly across from White island, and with the best view of volcanic Mount Hibok-Hibok Camiguin has to offer. To top it all off, the entire 10,000 sq meter property sits within a lush rice field, that along with the flowing herb and vegetable gardens, supplies highly-acclaimed Guerrera restaurant with the freshest produce available.
Easy to get to / easy to get around

Location is a probably the most underrated consideration when booking rooms on Camiguin and people only seem to realize that after they visit the first time.  There is no ideal spot for everyone but generally speaking, people without vehicles are usually choosing between:
1. A good looking view from a mountain slope that is usually private but harder to reach ( especially at night) and not as convenient as one must travel to eat, drink , shop, basically everything.
2. A location closer to the water and main road that may have a sea view or not, that is not as private because it is clustered in a village or row of resorts ,  but is easier to reach and more convenient as one can walk or ride shorter distances for most things.
Guerrera is a unique property in that it does not fall into either of these categories as we have some of the best views of the sea, a secluded beach, the mountains and our own gardens and rice paddies…and we are really easy to get to…and just walking distance from conveniences, shops, other restaurants… and a 5 minute stroll to  the embarkation point to white island, camiguin's top attraction. ..and the main road where you can flag down a public tricycle…and best of all,  still extremely private–as  we are completely separated from the village and all other resorts,  by our rice paddies.  Best of both worlds. Hiding in plain sight. Choose your cliche' but also choose your location wisely. Some visitors to Camiguin end up "getting stuck" at their resort or have unwanted souvenirs from their motorbikes because they did not.
Plus, you will never get lost no matter where you travel on the island. Everyone knows "the big orange beach house across from white island."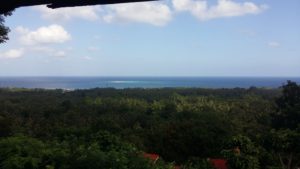 Look at any recent photo of the area and you cannot miss it.
Top food
Traveling in the Philippines can be a great experience, but from top to bottom, the country lags well behind her Asian neighbors for culinary options and quality.  Guerrera, for Asian food lovers, is a major exception to that rule.  The emphasis for Le cordon bleu-trained chef ( Bangkok) and owner, Carmel Therese Almadrones is on creativity and exploration.  Her "Fine Asian Street Food" eatery has become a destination for foodies and chefs alike and her ever-changing seasonal menu includes both signature creations and more traditional dishes from across Asia. The cuisines of Thailand, Vietnam, India, Indonesia and Malaysia are featured and the selections are balanced for both vegetarians and carnivores.
Personalized Activities

Camiguin is a beautiful island that has, so far, evaded mass commercial development. That's why people return again and again and so many from around the globe have moved here to live. We personally feel it is best enjoyed by people looking to unplug and enjoy its many natural sights and that's what we try to foster. But before we recommend any itinerary for guests, we listen first. Customization and personalization is the what separates us from commercial resorts.  We of course can connect you to fun island activities like hiking, diving, snorkeling, island tours, yoga and massage.  However, our specialty is cuisine, and for people interested in the culinary arts, at all skill levels, we offer a very rare opportunity to improve them.
.
Cooking classes
For years, dating back to our first establishments in Cebu, we have received countless requests to learn dishes served in the restaurant and other Asian favorites. Exclusively for guests of the villas,  you can now book 1 on 1 sessions with Chef Carmel and her staff to  try your hand at your favorite Thai, Vietnamese, Indian, Malaysian, Indonesian dishes.  If you've taken classes before in Thailand, you're in for something quite different as we will immerse you in the entire process from growing to harvesting to prep to plating ( and eating) . Don't worry you won't be climbing any coconut trees but you will be cooking just about everything from scratch. Just like we do.

So why not Guerrera?
We've been pretty strategic on our website about describing who Guerrera is for and we do that because there is no perfect property for every guest –and we are no exception. It is far better for both us and potential customers that there is a match between their expectations and the experience we are trying to offer.

The problem with online travel sites is, by design, they do not allow resort owners to really explain anything of any substance  about their property, thus it's really easy for guests to get misled as they only have the pictures, the price,  what is some usually generic computer-generated text and lots of sort of silly sales tactics popping up all over the screen. ( There are 1000 people looking at this property right now!)
So in an effort to be fully transparent, here's a brief compilation of guest profiles, based on experience,  that we feel would be happier elsewhere. This is not meant as a knock on specific people as we all have fallen into these categories during travel. It all depends on what your looking for in a property for that particular trip:
Bargain hunter:wants to spend the very least on everything and is not satisfied paying the listed price on anything. ( BTW, we feel Guerrera is an incredible bargain!)
City slicker: does not enjoy  the countryside, is afraid of animals, the dark and just about anything that moves or makes a sound.
Short-timer: has no time to spend on the property as they have one day and are rolling around on tour vehicles trying to see all the listed sights in the guidebook. This guest just really needs a bed at the end of the day.
Happily wired up: requires to be plugged into a device or TV or both at all times. Could really care less about nature or the outdoors.
Chain hotel lover: expects every property to be just like large hotels with their generic  breakfast buffets, cheap polyester slippers, and branded soaps to take  home.
Comfort fooder: only wants to dine on food that is totally familiar and is that more or less exactly like what they get at home or anywhere else for that matter. 
Service, style and amenities
Service
We live on the property and can attend to your needs personally.
Linens , towels, housekeeping are offered every 2 days or as requested.
Laundry is available as required.
Amenities
Each villa is equipped with the following:
Top quality memory foam Queen-size mattress and pillows
Touch button Teak Lamps
Custom -made hardwood Pull out sofa ( for 2)
Spanish Tiles
Vietnamese Lanterns
Bamboo Ceiling ( to keep the villa naturally cool)
Hot and Cold shower
Hot and cold outdoor bathtub for 2 ( rice paddy villas only)
Books
Wrap around deck
Brand new  air-conditioner
Custom built hardwood coffee tables and chairs